Timber Axolotl 41 Longboard Skateboard Deck - 9.2" x 41"
£

185.00
Timber Axolotl 41 Green Longboard Skateboard Deck – 9.2″ x 41″
Here it is. The one and only Axolotl prodeck. Designed in close collaboration with Mor Wolf.
The purest freestyle form embodied.
Did you know the Axolotl was a part of the Aztec diet?
The evolution of the longboard industry is embedded into this featherlight board. A future where skaters test the limits of their boards and demand the best in durabilty and the most versatile shapes.
A combination of all the best features of all of Timbers' boards. A monster of subtlety. A visionary of future endeavors. Stare into the eyes of the axolotl and come to grasp with your fate.
Concave
Every board in the Timber line-up has their unique features. Combine the best of all freestyle boards and you get the axolotl.
Multi-stage concave gives this board a very characteristic feel. The middle has a bit less concave compared to the stance.
What is noteworthy is that the shape of the board gives this board an almost even feeling concave all around.
Let me explain: The board is widest at the waist with 23,3 centimeters. So even though it has mellower concave there, it's still 1.2 centimeters.
The stance is less wide with 22.3 centimeters. Even though the concave here is more, it will still go 1.2 centimeters up.
This means a few things:
A balanced and even feel when dancing on the board.
A concave with more curvature at the stance, to grip the board better while sliding.
Protruding towards the curvature of the tail. This gives more control for one-foot tricks and will let you know where you stand at all times. No flatness here.
A rigid feel, with just enough spring to make it feel natural when doing your tricks.
Kicks
With the two wheelbase options, you get to have a few options. When trucks are closest to the middle you will have 15,2-centimeter kicks. That's pretty big for a relatively short board. The other option is 13,7 centimeters. You can choose to make it more asymmetrical. Changing around the wheelbase will make you notice that the pop changes somewhat. With the shortest wheelbase, the pop will be steady, high and more horizontally. With the larger wheelbase option, your kick gets smaller. Now the board will pop more vertical so you can get some more air on your tricks.
Now, the shape: After the bolts it's a short flat spot when after a few centimeters it aggressively curves upward to form a flat surface where you will place your feet for tricks. This makes one foot manuals a breeze,since you can place your entire foot lengthwise on the bolts without much curvature. The curving upwards follows directly out of the concave near the bolts, making it a little bit of a cup before transitioning into the flat surface. These kicks will feel solid due to the carbon reinforcement from start to end and it will feel like you've skated this board before.
Mechanical Properties
Lot's of testing. We have to admit, some lay-ups worked better than others. But we found it. We can tell you this:
It has carbon on top and stringers on the bottom. Stiff, light and dare I say pretty.
Also, it has the highest quality E-glass (just like all our boards). Meaning: less dense, strong and durable.
It is LIGHT. it weighs around 1.6 kg, which is pretty crazy. Only cruisers will become lighter.
Adding up all this glass, carbon, the outline and the concave you get a perfectly balanced, lightweight and super strong board.
Even the way this board looks (the outline) is thought out carefully to minimize chipping and keeps you skating on a good looking board longer. But who cares about the looks anyways? Hollywood. That's who.
Wheelbase
A total of 4 options. Most people choose to start with the widest wheelbase and after it gets some damage on the kicks, they move up to the shortest wheelbase. This has the upsides of making your board skate well for a longer period and steadily increasing your pop by wearing down the tails and switching wheelbases.
The longest wheelbase is 65,5 centimeters
The shortest wheelbase is 62,5 centimeters
As stated before, the longest wheelbase will of coursegive you the shortest length of kicks. Therefore it pops higher compared to the wheelbase with the longest kicks. Even so, this board will pop great regardless of your choice of wheelbase. But it's nice to know you can tweak it to suit your personal preference.
Style
A true freestyle board. A new branch in longboard evolution.
Tricks will fly high and fast. Predictable and steady.
The board provides a steady and characteristic enough concave to make you feel confident about landing those big tricks. Pushing yourself and the gear to its maximum.
Dancing on this board will be fast. Although it is kinda short, all of its features come together to harmonize into a flowing stream like the water from which it came.
Graphic
A pen and ink drawing made by Mor Wolf, incorporated into the characteristic style of Lance Schmale. Tweaked by the technician Jouke Bos at Timber Boards to provide a sweet color combination.
That time you took shrooms and fell into the water and got visited by a God dressed as an axolotl.
Suggested set-up
180 trucks and 60-65 millimeter wheels. This combination will be the absolute bomb. You can choose higher, but even though it has wheelwells, you might want to consider a riser if you go 70 millimeters or higher to ensure absolutely no wheelbite. Depending on your brand of trucks and how loose you have your bushings.
Also: Yellow wheels are a nice contrast with the blue. Just saying.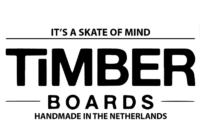 Specs
Length: 105 cm / 41"
Width: 23.3 cm / 9.2"
Wheelbase: 62.5 cm – 65.5cm / 24.6" – 25.8".
Construction: Bamboo.
Gripped: NO Grip
Brand: Timber Boards
Board width (Inches): 9.2
Board length (Inches): 41
Board wheelbase: 25.5, 25.8
Kicks: Double Kick
Mounting of Trucks: Topmount
Construction material: Maple
Colour: Blue, Limited Edition
Riding Style: Cruising / Carving, Freeriding, Freestyle / Dancing

Non UK / EU Deliveries
Customs Charges
If you are ordering goods for delivery outside of the UK, please note that your consignment may be subject to import duties and taxes, which are levied once the goods reach the country of destination. Any such charges levied in relation to customs clearance must be paid by you. It is accepted by you that Newton's Shred has no control over additional charges in relation to customs clearance. Newton's Shred recommend that you check with your local customs officials or post office for more information regarding importation taxes/duties that may be applicable to your online order. You will be the importer of record and responsible for any import VAT and duty that needs to be paid. In addition, any charges for import clearance will be paid by you, the customer. Refunds of any returned order will be of items, not the services incurred.
UK Delivery
Royal Mail Tracked 2-3 Days
This is a tracked service, so you can check the location of your delivery. This service takes 2-3 days after ordering, including Saturdays.
Click & Collect
This is a tracked service, so you can check the location of your delivery. We will select the nearest Click & Collect location by using our given address. You will receive an email confirmation of your tracking number and location.
DPD/ Other Couriers
This is a tracked service, so you can check the location of your delivery. On the day of delivery you will also receive a text/email notifying you of an estimated one hour delivery window. This service does not include Saturday, Sunday or Bank Holidays. This service is only available for UK Mainland customers.
If you request that the package is left somewhere without a signature, this will only be done at the discretion of the delivery driver. If you do request an item is left without a signature, you assume responsibility for any loss or damage to the package.
Our parcels are normally shipped in Newton's Shred branded packaging.
Can't be home for the delivery? Don't worry – Newton's Shred can ship to almost any UK address so you can have your order delivered to your place of work, to a friend, a relative or neighbour. Simply enter your preferred delivery address when checking out.
We normally do not deliver to drop-shipping companies or storage/self-storage companies.
Changing delivery address while your order is in transit – if you decide to change the delivery address after the delivery service was confirmed and the information was entered into the system, a redirection will lead to a different delivery time and therefore, a delayed delivery.  Note that even if the new address is very close to the initial one, the information still has to be changed and the package re-labelled, which can lead to a change in the delivery date as well.  In such cases, it would usually be quicker for the delivery to fail then pick up the order from the local depot in the evening of the due date.
Almost all deliveries will take place as scheduled. However, certain issues may be out of our control resulting in possible delays.  Due to this, we advise against taking time off daily routines, such as work, to avoid any issues. An order can be placed to go to a business address if needed. If you are worried about a delivery for any reason or have any queries please contact us on 07807203111, or email us at Gael@newtons-shred.co.uk.
Collect in Store
This service is to collect at Newton's Shred store, located in Canvey Island, Essex. Time of collection will need to be arranged. We will contact you directly once order is placed.
Local Pickup 
We offer local pick up when at events or at meet up points. Generally most weekends we are out and about around Essex and London plus many events around the UK and Europe during peak seasons. You can contact us or we will contact you once your order is placed, to arrange a Local Pickup point.
Pre-Orders
At Newton's Shred we give you the chance of securing your product, you are able to place a pre-order to reserve a new product or an out of stock due to be released / restock in the near future. Doing this will allocate stock to your order. Pre-orders will be fulfilled in the order that they are placed. The quicker your pre-order is placed the earlier your goods will be received.  When placing a pre-order payment you will be charged for the full amount of the order. Please note when placing pre-orders with other items in stock, we hold the whole order until all is ready for dispatch, unless stated differently. All re-stock dates given have been provided by the UK /European distributor, however are subject to changes beyond Newton's Shred control. In the event a pre-order is delayed, we will notify all customers as quickly as possible.
Overseas
***Please note it is your responsibility for any duty or import charges for goods shipped***
Please check with the customs in your country regarding any charges that may occur from purchasing goods from overseas.
This is a tracked service, so you can check the location of your delivery.
Delivery cost is for orders up to 5kg. Over 5kg may incur extra costs. We will however contact you first, if there will be extra.