Surfskate Buying Guide
The Surfskate world is growing! The market was dominated by Carver Skateboards for a long time and we see new brands offering very good surfskate decks and trucks.
This guide will help to find the right board for you, we put together everything you need to know about the Surfskate brands and truck systems plus  our personnel experience.
We have fun with all Surfskates, no matter which brands . All brand are made with quality and the search for the best wave.
Depending on the riding style and surf abilities, the surfskates of one brand may be better suited than those of another brand. We would like to help you choose the perfect ride.
       1. What is a Surfskate?
A surfskate is surfing simulator! The front truck allows movements similar to a surfboard. The turning dynamics of the surfskate truck allows short and flawless turns like surfing. Even if you have no experience in surfing: it doesn't matter. The movements become very natural and easy to learn.
A surfskate can be pumped along the road, seafront without having to set a foot down on the road. This feeling is unique and the movements you get are not possible with traditional longboards trucks. You can carve around even the tightest corner or slalom your way around a busy town, the front truck make it possible.
If you can't wait for the next surf trip, if you want to improve your surf skills or if you are looking for a super fun cruiser, a surfskate is the right choice for you! Specially in you are from U.K
2. What is the difference between Surfskates and Longboards?
The surfskate offers a completely new and different way of riding compared to traditional longboards! The mouvements on the surfskates are very similar to surfing and therefore very different from longboard and skateboarding.With the Surfskate trucks there are many more possible movements. By shifting the weight – from toe to the heel – speed can be built up on the board – called pumping. This technique just like surfing allow you to generate speed without having to put your feet down to push. This will be very difficult to do with a conventional skateboard or longboard trucks. The Surfskate trucks are much more manoeuvrable than Longboard trucks and allow very tight turn and carve which are simply not possible with Longboard trucks.

3. Which Surfskate brands are there?
Carver skateboards
Carver skateboards from California – Is one of the pioneers in surfskate development – comes with two  surfskate trucks: Carver C7, Carver CX truck. Carver produces very high quality   surfskate trucks.  Check out our full range of Carver Skateboard currently in stock.
 Smoothstar Surf Trainer
Smoothstar Surf Trainer: Smoothstar from Australia is specializes in surf training with the Smoothstar Thruster System . Those guys have been around for while and their trucks are pure surfer orientated. Check out our full range of Smoothstar Surf Trainer currently in stock.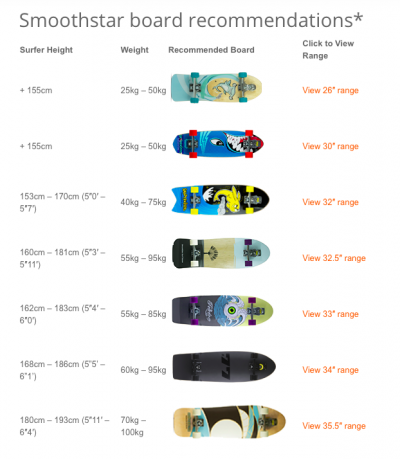 Surfskate surf Trainer
Surfskate surf trainer: Surfskate from UK  is devoted to surf training with the Swell Tech system. Surfskate, a skateboard surf trainer that lets you  surf the streets thanks to its patented revolutionary 360 degree truck design. Check out our full range of Surfskate currently in stock.
Penny Skateboards
Designed for the flat-day fun, The Penny High-Line Surfskate replicates the feeling of surfing the streets.Check out our full range of Penny Skateboards currently in stock.
      4. What's the difference between trucks systems?
4.1 Carver vs. Smoothstar

If you are looking for a surf training or if you have already tried other surfskate and looking to take your surfing to the next level Smoothstar Surf is the right choice. Smoothstar have the most flowless Surfskate systems making any of your bottom turn feel like you in the water. The steering of  Smoothstar boards is clearly extreme.

The Surfskate trucks of Carver, Carver C7 and Carver CX are more stable than those  Surf and Smoothstar. If you want to cover a slightly longer distance besides surfing manoeuvres, carves and pumping, the Carver skateboards are the right choice. Surfskate beginners will also find it easier to get started with the Carver Board.

For the pro: Get the  Smoothstar !

4.2 Carver vs. Surfskate UK

When the guys at Surfskate UK  made their  trucks system I believe they only had one goal in mind, make the Swell Tech system a surfing machine. Those trucks have one purpose is making you a better sufer.

The Surfskate trucks of Carver, Carver C7 and Carver CX are more stable than those  Surf and Smoothstar. If you want to cover a slightly longer distance besides surfing manoeuvres, carves and pumping, the Carver skateboards are the right choice. Surfskate beginners will also find it easier to get started with the Carver Board.

4.3 Smoothstar vs. Surfskate UK

Smoothstar and Surfskate UK  are made for pure surfer who wants to improve in the water. The Smoothstar Thruster system offers a little more adjustment for the rider. The Surfskate UK  Swell Tech system  make any  surf tricks possible. The Smoothstar boards are a more aggressive with their concave but the Surfskate UK board are mini surfboard.

4.4 Carver C7 vs. Carver CX

Carver Skateboards has two Surfskate trucks: Carver C7 and Carver CX. The Carver C7 . Both trucks are very similar the CX is a more versatile trucks  and will allow you to surf in the skatepark, go downhill and practise your surfing the CX does it all. The C7 is smoother and your turn will be more aggressive. Both trucks are great for surf training.

4.5 Penny Skateboard vs Carver

The Surfskate trucks of the Penny Skateboard , are really similar in sensation to the Carver trucks.

The Penny surfskate system convinces us as a cheaper alternative to the Carver .

No matter if you like the design better or want to dig a little bit deeper into your pocket – the Penny  boards  Surfskate system are just as much fun.

That means with the 2 boards and the truck systems you can carve, cruise and pump and have a stable feeling despite the flexibility of the board. These boards are recommended for beginners to experienced cruisers.

5. Which surfskate deck is the best one for me?

Not sure about what the best decks for you ?Below is chart with body height, weight and board length as a guide.

| Height |  Weight |  Surfskate Length |
| --- | --- | --- |
|  under 155cm |  3.93st – 8.66st |  under 30″ |
|  150cm – 170cm (5"0` – 5"7`) |  6.30st – 11.80st |  27 – 31" |
|  160cm – 181cm (5"3` – 5"11`) |  7.87st – 13.40st |  30 – 32" |
|  165cm – 187cm (5"4` – 6"2`) |  9.45st – 14.17st |  31"- 33" |
|  175cm – 193cm (5″7` – 6"4`) |  11st – 15.74st |  32"- 35" |
|  182cm – 203cm (6"0`- 6"8`) |  13.38st – 18.90st |  34"- 39" |

Use the chart  as a guideline to pick a suitable  surfskate for you-But nothing is set in stone! Depending on the use and purpose, the chart can also be ignored: For example, if you are looking for a Mini Cruiser surfskate for the city and are bigger than 180cm, you can easily do this with a board under 30″. Same work for someone who is lighter  and like to ride a long surfskate for long distance pumping. However, you should always check if the length of the board still suit your normal stance, ideally you want to position your feet above the rear truck and slightly behind the front truck.

5.1  skills

Surfskate Beginner

You have no experience with longboards, skateboards or surfskates? That's not a problem!

With some practice you will learn to pump and carvevery fast. After the first few sessions, you'll make significant progress and get the hang of it! No matter your age.

As a beginner you feel more comfortable on a stable board. Therefore, we recommend a longer and wider board with a long wheelbase. Beginners are also advised to wear protective equipment such as helmet and kneepads.

Recommended Boards and Brands: Carver Skateboards

Advanced riders

You already have a surfskate or surfing experience, or you are riding a longboard and skateboard and you are looking for something new. After a short time you will master all Surfskateboards!

Recommended boards and brands: Carver skateboards, Smoothstar, or any other.

 Pro riders

The wheels of your surfskate board are already worn up and you call the bowl and skatepark your second home, then you should definitely have a look Smoothstar and Surfskate UK!

Recommended Boards and Brands: Smoothstar, Surfskate UK

6. Which Surfskate for which purpose?

6.1 Which surfskate suits best for surf training?

For surf training we recommend  Smoothstar or Surfskate UK. The Surfskate truck systems from Smoothstar and Surfskate UK have the strongest turn radius among all surf skates. With Smoothstar or Surfskate UK boards you can do much tighter turns and surfing maneuvers like cutbacks than with other surfskateboards.

If you mainly want to push your surfing skills, Surfskate UK and Smoothstar is the right choice!

6.2 Allround surfskate for surf moves and cruising through the city centre

In addition to surf maneuvering, you want to cover a longer distance or simply cruise through the city, we recommend a Carver Skateboard.

We hope you find the right board! Otherwise just send us an email!