Timber Flaming Medium Flex Longboard Skateboard Deck - 9.05" x 48.4"
£

190.00
Timber Flaming Medium Flex Longboard Skateboard Deck – 9.05″ x 48.4″
THE long freestyle dancer.
Medium flex, good for 60-90Kg
For fanatic fast flamboyant footwork, folks find Flamingos Fabulous. Or Fantastsic. Or even flabbergasting. Is that a word? We don't know. 'Flamazing' might be the right word to describe the feathery fowl. Fowl is another word for bird. Trust me, I looked it up.
Length
With its length of 123cm (48.5 inch) the Flamingo provides an excellent balance between the old and new school dancers currently on the market. This bird has a lot of space to fulfill all your board walking needs while still being versatile from a freestyle point of view.
Width
This lean, mean dancing machine has a quite narrow feeling to it. Having a waist of 23cm (9.05 inch) so the board does not tip over when doing some aggressive peter pans or chops. ( 4 style points)
Concave
The concave on this board makes it rock steady when you dance either at the waist or at the stance. The shape of the board follows the concave in such a way that when you're in your peter pan anywhere on the board it feels the same everywhere. Meaning more flow and stability for your fast dancing. The middle is totally flat. For about 8 centimeters of flatness gives this board a nice and responsive flex. Skate it onslow speeds and you get a controllable carve. Get up to some speed and the carve will be tighter and fluid.
Flat-Cave / Tub – Tub concave (more often heard just "tub") describes a board with a flat center of the pan with the concave starting a set distance before the rails. This keeps feet flatter and in a more natural position, yet still allows for that needed leverage at the toes and heels.
Mechanical properties
Remember the old Flamingo? It didn't have full bamboo yet. This one does. At these lengths full bamboo means the board will be hella flexy if you don't reinforce the crap out of it. So we did. Bamboo is lighter, less 'chippy' compared to the first series' wood: birch. It is very bouncy though. We still want it to be flexy just the right way. So with some testing we wound up with a rather complex set-up of 2 different kinds of carbon weaves, and 3 different kinds of glass weaves. Making this board one of the most complex of the series.
Features due to the lay-up:
• Snappy flex
• Three different flex options (Flex, medium and stiff)
• Light weight relative to size
• Full bamboo all the way, yay
• Double carbon fiber reinforced kicks
• Two tone wheelwells
Wheelbase
80 to 83 centimeters is loooong. Well, maybe not THAT long. Just long enough to make this a true longboard dancer. Slow and steady carves are the result of this wheelbase length. But wait: you can go even longer! Now featuring the second wheelbase option for the Flamingo. Tip: Start with the outer wheelbase and move up when the kicks wear out.
Flex
Can now be made with 3 flex types. Flexy, medium and stiff. The flex is the right balance between mellow at cruise speed and snappy and active with loose bushings.
Kicks
When the bolts end, it has a few centimeters of flatness. This has multiple advantages: The kick will have a natural feel when you place your foot all the way back, but allows for longer kicks. Longer kicks mean longer life for a freestyle board. Reinforced twice now, with in the top later double carbon. You read that correctly. Also, at the near bottom layer we added even more carbon. This kick will stay solid 'till the end. Curving upward to a flat surface, this mellow kick is made for steady and high pops.
Wheelwells
Featuring routed wheelwells for those tight turns. Makes the whole design come together.
Style
Imagine a large boulevard with very smooth concrete and the sun is going down. Also, waves are hitting the beach. Now imagine a very drunk guy running right at you at full speed from about 200 meters. The left-to-right swinging he does? That's how a flamingo skates. But then controllable.
Graphic
Made by Lance Schmale. A minimalistic Flamingo in its second evolutionary form. People will know you ride a Flamingo. Finished with hardened bamboo and impregnated with epoxy to last longer.
Specs
Length: 123 cm / 48.4"
Width: 23 cm / 9.05"
Wheelbase: 80 cm – 83 cm / 31.5" – 32.7".
Flex: Medium
Construction: Bamboo/Carbon fiber
Gripped: No.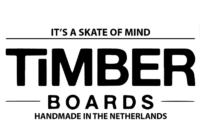 Specs
Length: 123 cm / 48.4"
Width: 23 cm / 9.05"
Wheelbase: 80 cm – 83 cm / 31.5" – 32.7".
Flex: Medium
Construction: Bamboo/Carbon fiber
Brand: Timber Boards
Board width (Inches): 9.05
Board length (Inches): 48.4
Board wheelbase: 31.5, 32.7
Kicks: Double Kick
Mounting of Trucks: Topmount
Construction material: Maple
Colour: Limited Edition
Riding Style: Cruising / Carving, Freeriding, Freestyle / Dancing

Non UK / EU Deliveries
Customs Charges
If you are ordering goods for delivery outside of the UK, please note that your consignment may be subject to import duties and taxes, which are levied once the goods reach the country of destination. Any such charges levied in relation to customs clearance must be paid by you. It is accepted by you that Newton's Shred has no control over additional charges in relation to customs clearance. Newton's Shred recommend that you check with your local customs officials or post office for more information regarding importation taxes/duties that may be applicable to your online order. You will be the importer of record and responsible for any import VAT and duty that needs to be paid. In addition, any charges for import clearance will be paid by you, the customer. Refunds of any returned order will be of items, not the services incurred.
UK Delivery
Royal Mail Tracked 2-3 Days
This is a tracked service, so you can check the location of your delivery. This service takes 2-3 days after ordering, including Saturdays.
Click & Collect
This is a tracked service, so you can check the location of your delivery. We will select the nearest Click & Collect location by using our given address. You will receive an email confirmation of your tracking number and location.
DPD/ Other Couriers
This is a tracked service, so you can check the location of your delivery. On the day of delivery you will also receive a text/email notifying you of an estimated one hour delivery window. This service does not include Saturday, Sunday or Bank Holidays. This service is only available for UK Mainland customers.
If you request that the package is left somewhere without a signature, this will only be done at the discretion of the delivery driver. If you do request an item is left without a signature, you assume responsibility for any loss or damage to the package.
Our parcels are normally shipped in Newton's Shred branded packaging.
Can't be home for the delivery? Don't worry – Newton's Shred can ship to almost any UK address so you can have your order delivered to your place of work, to a friend, a relative or neighbour. Simply enter your preferred delivery address when checking out.
We normally do not deliver to drop-shipping companies or storage/self-storage companies.
Changing delivery address while your order is in transit – if you decide to change the delivery address after the delivery service was confirmed and the information was entered into the system, a redirection will lead to a different delivery time and therefore, a delayed delivery.  Note that even if the new address is very close to the initial one, the information still has to be changed and the package re-labelled, which can lead to a change in the delivery date as well.  In such cases, it would usually be quicker for the delivery to fail then pick up the order from the local depot in the evening of the due date.
Almost all deliveries will take place as scheduled. However, certain issues may be out of our control resulting in possible delays.  Due to this, we advise against taking time off daily routines, such as work, to avoid any issues. An order can be placed to go to a business address if needed. If you are worried about a delivery for any reason or have any queries please contact us on 07807203111, or email us at Gael@newtons-shred.co.uk.
Collect in Store
This service is to collect at Newton's Shred store, located in Canvey Island, Essex. Time of collection will need to be arranged. We will contact you directly once order is placed.
Local Pickup 
We offer local pick up when at events or at meet up points. Generally most weekends we are out and about around Essex and London plus many events around the UK and Europe during peak seasons. You can contact us or we will contact you once your order is placed, to arrange a Local Pickup point.
Pre-Orders
At Newton's Shred we give you the chance of securing your product, you are able to place a pre-order to reserve a new product or an out of stock due to be released / restock in the near future. Doing this will allocate stock to your order. Pre-orders will be fulfilled in the order that they are placed. The quicker your pre-order is placed the earlier your goods will be received.  When placing a pre-order payment you will be charged for the full amount of the order. Please note when placing pre-orders with other items in stock, we hold the whole order until all is ready for dispatch, unless stated differently. All re-stock dates given have been provided by the UK /European distributor, however are subject to changes beyond Newton's Shred control. In the event a pre-order is delayed, we will notify all customers as quickly as possible.
Overseas
***Please note it is your responsibility for any duty or import charges for goods shipped***
Please check with the customs in your country regarding any charges that may occur from purchasing goods from overseas.
This is a tracked service, so you can check the location of your delivery.
Delivery cost is for orders up to 5kg. Over 5kg may incur extra costs. We will however contact you first, if there will be extra.